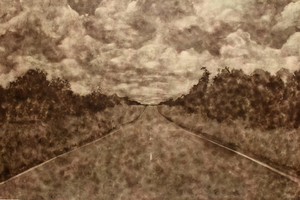 Roads
These works are from a series of smoke paintings based around the theme of the road. The works explore the space between past and future, here and now, coming and/or going.
---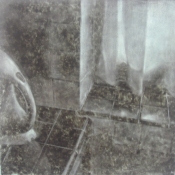 "Home?"
These works were created by applying the smoke from a candle to the surface of the canvas, then creating the image by wiping away the surface.
---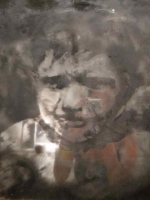 Smoke and Mirrors
This series was created by apply smoke (by way of a candle) to the surface of the mirror. The smoke was then removed in certain areas with pieces of cotton to create the portrait. The surface was then fixed.
---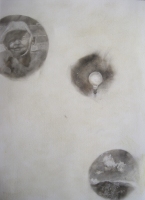 Portholes
This latest series of smoke drawings were created at a residency in Assis, Italy. The artist used the ginestrelle (yellow flowers from the region) to stain the paper, saturating the work with physical memories of the surrounding land. The images represented in the porthole drawings are juxtapositions between real life encounters with the Umbrian landscape and fragments taken from various photo references.